Wild Blueberry Scones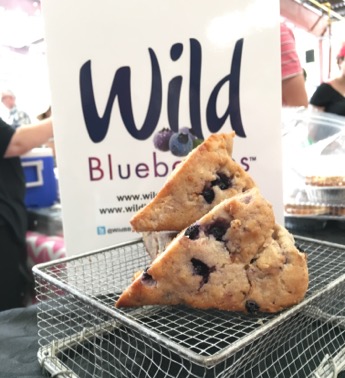 Ingredients
2 cups (500 g) Molly B's gluten-free cake flour
1/3 cup (80 g) coconut sugar
1 tbsp (15 g) baking powder
1/4 tsp (1.25 ml) baking soda
1/2 tsp (2.5 ml) salt
6 tbsp (90 ml) organic palm shortening
3/4 cup (190 ml) coconut milk
1 tbsp (15 ml) lemon juice
1/2 tsp (2.5 ml) vanilla
1/2 cup (125 ml) wild blueberries
extra coconut milk and coconut sugar for topping
Preparation
Preheat oven to 400°F (200°C).  Line baking sheet with parchment paper.
In a large bowl, whisk together the cake flour, coconut sugar, baking powder, baking soda and salt.
Cut in shortening and knead until the mixture is crumbly.
Add coconut cream, lemon juice and vanilla.  Continue to knead until dough is sticky.
Fold in wild blueberries.  Dough should be very sticky (if dry, add more coconut milk).
Shape dough into 2 round flat disks about 1" high.  Place on a lined baking sheet.
Baste tops with coconut milk and sprinkle with more sugar.  Cut each disk into 8 even triangles.
Bake 15 minutes or until a toothpick comes out clean.  Remove from oven and let cool.

Wild Blue is Good for You!