Wild Blueberry & Walnut Blondies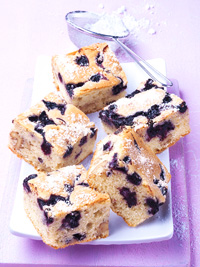 Ingredients
Cooking spray
¾ cup frozen wild blueberries
1 cup plus 2 teaspoons all-purpose flour
¾ cup sugar
1 egg
6 tablespoons butter, melted
1 teaspoon vanilla extract
1 teaspoon baking powder
¼ teaspoon salt
½ cup chopped walnuts
powdered sugar for garnish
Preparation
Preheat oven to 325 degrees. Coat an 8X8-inch square baking pan with cooking spray; set aside.
In a small bowl, gently stir together the wild blueberries and 2 teaspoons of the flour to coat berries; set aside.
In a medium bowl, whisk together the sugar and egg until light yellow in colour, about 1 minute. Add the melted butter and vanilla extract and whisk to combine. Ad the remaining 1 cup flour, along with the baking powder and stir with a spoon or spatula until thoroughly combined. Stir in walnuts.
Spread batter evenly in the prepared baking pan. Sprinkle the top with the Wild Blueberries.
Bake for 45 minutes, or until the edges are golden brown and the centre is set. Remove from the oven and cool completely before cutting. Garnish by sprinkling the blondies with powdered sugar, if desired.

Wild Blue is Good for You!