Wild Blueberry Walnut Salad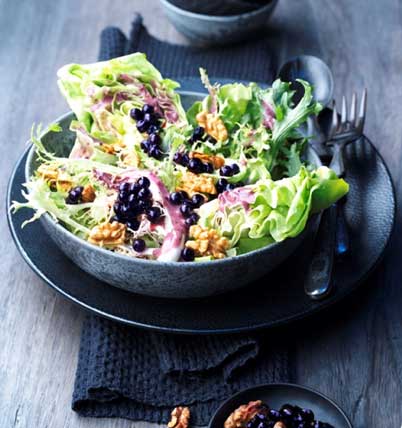 Ingredients
⅓ cup (80 ml) 10 % cream
Juice of 1 lemon
2 tbsp (30 ml) grainy mustard
¼ cup (60 ml) walnut oil/olive oil
4 heads Boston or butter lettuce, quartered
1 head frisée lettuce
⅓ cup (80 ml) walnuts, toasted and roughly chopped
1 cup (250 ml) frozen wild blueberries, defrosted and strained
Salt and pepper
Preparation
Place cream, lemon juice and mustard in a blender. Season with salt and pepper.
Gradually add walnut oil in a steady stream while blending. Set aside until assembly.
Arrange greens on serving platter.
Spoon blueberries and dressing over greens. Garnish with toasted walnuts and serve.

Wild Blue is Good for You!