Wild Blueberry Press Release
Celebrating Wild Foods Day with Wild Blueberries
October 28, 2020
Celebrating Wild Foods Day with Wild Blueberries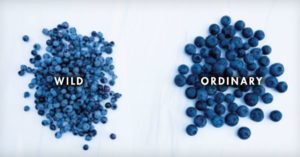 As we transition to Fall, many of us are celebrating the foliage, cooler temperatures, apple picking, and pumpkin carving. However, one day that often gets overlooked is Wild Foods Day on October 28. Wild Foods Day celebrates plants, fruits, and vegetables that grow wild – and yes, that means wild blueberries (www.wildblueberryassociation.ca).. So, to celebrate this iconic day, we're sharing some information about what makes wild blueberries different than ordinary blueberries.
Wild
More intense blueberry flavour: Thousands of naturally occurring diverse plants in every field combine to create a potent and complex flavour ranging from tangy tartness to succulent sweetness that ordinary blueberries can't match.
More antioxidant power: 33 per cent more brain-healthy anthocyanins and 2x the antioxidant capacity of ordinary blueberries makes wild blueberries the berry healthy bodies and brains crave.
Smaller (with more punch): Smaller wild blueberries offer a higher skin-to-pulp ratio; meaning less water and more antioxidant-rich pigments, more fibre, and more intense blueberry flavour per serving.
Grown wild and local: As 1 of 3 native North American fruits, wild blueberries are never planted. They grow wild in the thin glacial soils and harsh northern climate of Eastern Canada and Quebec – the very same place where Mother Nature put them more than 10,000 years ago.
Frozen at peak freshness: Harvested at the peak of summer, 99 per cent of the wild blueberry crop is frozen fresh within 24 hours ensuring all the taste and health benefits are ready for you in the frozen fruit section of the grocery store.
Ordinary
Ordinary taste: By propagating a select few genetically narrow varieties, growers produce a blueberry of consistent size, with a blander flavour than the naturally more complex wild flavour profile.
Less antioxidant power: Like the wild ones, ordinary blueberries contain phytochemicals called flavonoids, which deliver antioxidant protection to your cells. But if you want the biggest antioxidant bang for your blueberry, go wild.
Bigger (and blander): Larger uniform berries have more watery pulp, which means less antioxidant-rich pigments from the skin, less fibre and less intense flavour per serving.
Larger carbon footprint: Imported ordinary blueberries come from several high bush variety plants that are propagated and harvested around the world landing on store shelves having incurred a much larger carbon footprint.
Picked before ripe and shipped: Fresh ordinary blueberries are often picked before fully ripe and shipped thousands of miles after harvest, only to wait around for weeks before hitting store shelves.
So, what are you waiting for? Wild blues are good for you and taste better than ordinary blueberries. Next time you're at the grocery store visit the frozen foods aisle and pick up a bag of frozen wild blueberries. The frozen ones are great to use in one of these cozy fall-appropriate recipes that you can whip up to celebrate Wild Foods Day:
Recent exciting health research
In the most recent studies, school-aged adolescents performed better in some cognitive tests after they consumed wild blueberries. These cognitive tests can selectively examine aspects of memory, mood and decision making. Researchers consider the results compelling because brains of adolescents are not yet affected by the physical stresses of age, like the brains of elderly adults. Also notable was that performance on some cognitive tests was improved as soon as two hours after consuming wild blueberries. Long-term regular intake of blueberries is associated with lower risk of cardiovascular disease and other age-related conditions, based on large population studies.
"The body of scientific evidence for the health benefits of wild blueberries continues to grow," explained Dr. Wilhelmina Kalt, researcher. "Blueberries support good health in relation to conditions that are common during aging such as heart health, diabetes, weight gain, and brain function. But here we see that wild blueberries also support good cognitive performance in young adults. The new research supports the message to eat wild blueberries daily to protect one's health throughout life."
For a current scientific review of blueberry health benefits visit https://doi.org/10.1093/advances/nmz065.
Consultant to the Wild Blueberry Association of North America, Wilhelmina Kalt, Ph.D. is available to share knowledge and research on the health benefits of wild blueberries. Dr. Kalt has studied the horticultural and food factors that influence fruit bioactive content. In more recent animal and human studies, she has characterized how bioactive pigments, abundant in wild blueberries, are absorbed by the body. She has collaborated in clinical studies in various fields of biomedicine to examine the effects of wild blueberries in a free-living human population.
About the Wild Blueberry Association of North America
The Wild Blueberry Association of North America (WBANA) is an international trade association of growers and processors of wild blueberries from Quebec, New Brunswick, Nova Scotia, Prince Edward Island, Newfoundland and Maine, dedicated to bringing the wild blueberry health story and unique wild advantages to consumers and the trade worldwide. For news, recipes, and related health information about wild blueberries visit www.wildblueberryassociation.ca or www.wildblueberries.com. For the latest updates, read the blog. Visit on Facebook, Twitter or Instagram.
-30-
For more information, recipes, visuals or to schedule an interview or broadcast segment with Dr. Wilhelmina Kalt or a chef from the Wild Blueberry Association of North America, please contact Susan Willemsen at The Siren Group Inc.  Tel: (416) 461-5270.  Email: susan@thesirengroup.com. Visit www.thesirengroup.com or Facebook, Twitter and Instagram @thesirengroup.