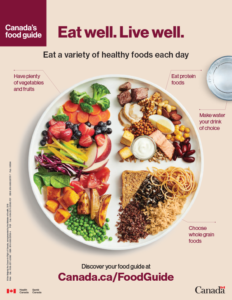 We all know we should be getting more fruits and veggies into our daily diets. Canada's Food Guide recommends filling half of your plate with vegetables and fruit. Try including plenty of fruits and vegetables in your meals and snacks and choose different textures, colours and shapes to fit your taste
Get Your Daily Dose of Blue
One of the easiest, healthiest and most delicious ways to get a daily serving of fruit is to think Blue – Frozen Fresh Wild Blueberries. Add them to your morning cereal, toss them into pancake or muffin batter, sprinkle them on salads, or start your day with a Wild Blue Smoothie. Visit the Wild Blueberry Recipes pages for more ideas.
The Convenient Superfruit
Frozen Fresh Wild Blueberries have more of the anthocyanin goodness you need to power up your healthy diet. They're easy to use right out of the freezer and you'll find them year-round in your grocer's frozen fruit section. They're just as nutritious as fresh and may even retain their nutritional value longer.
Frozen Fresh Wild Blueberries have other advantages, as well:
4-season availability
Excellent value
The same anthocyanins goodness as fresh
Quick and easy preparation
Dependable quality, with no waste or spoiling
No added sugars or preservatives
Retain their taste, texture and shape in cooking