Wild Blueberry Press Release
Celebrate the holidays with these wildly delicious cocktail and appetizer recipes
November 29, 2019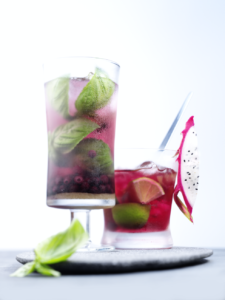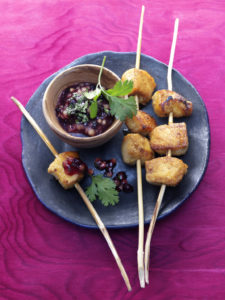 Celebrate the holidays and ring in the New Year with a festive selection of easy-to-make, wildly delicious cocktail and appetizer recipes, ideal for seasonal entertaining.   Wild blueberries spruce up any traditional recipe by adding a punch of colour and bold flavour that guests will be sure to remember.  Indulge in these holiday treats with minimal guilt knowing wild blueberries contain a wide range of natural anthocyanins, which help fight against disease and age-related health risks.
Wild blueberries are frozen fresh at harvest, preserving great taste, superior quality and nutritional value.  Enjoy half a cup a day year-round for maximum health benefits.
Try these easy-to-make cocktail (or mocktail) recipes using Van Dyk's 100 per cent natural Wild Blueberry Juice and garnish with frozen wild blueberries available year-round in your grocer's freezer:
Pair your wild blueberry cocktail with these tempting appetizers and finger-foods for a perfectly wild holiday get-together.
Christine Tizzard is a Maritime-born chef, food stylist, recipe developer and a lifelong lover of Canadian wild blueberries.  She is the author of the critically-acclaimed cookbook Honest to Goodness: Recipes for the Everyday Home Cook.  Short-listed last year for a Taste Canada Award for the Health and Special Diet Cookbooks category, it shares her commitment to healthy eating and love for all things delicious. She is working on a new cookbook and is available for interviews and in-studio cooking demonstrations to share her knowledge of the tiny but potent fruit.
Wild blueberries have always been Christine and her kids' personal favourite for their powerful antioxidant and disease-fighting properties.  They put a burst of colour and natural sweetness into any diet.  With a mere 45 calories per 100 gram serving, wild blueberries are rich in manganese, high in fibre and contain double the antioxidant power of cultivated blueberries.
About the Wild Blueberry Association of North America
The Wild Blueberry Association of North America (WBANA) is an international trade association of growers and processors of wild blueberries from Quebec, New Brunswick, Nova Scotia, Prince Edward Island, Newfoundland and Maine, dedicated to bringing the wild blueberry health story and unique wild advantages to consumers and the trade worldwide.  For news, recipes, and related health information about wild blueberries visit www.wildblueberryassociation.ca or www.wildblueberries.com. For the latest updates, read our blog. Visit us on Facebook, Twitter, or Instagram.
-30-
For more information, recipes, visuals or to schedule an interview with Chef Christine Tizzard or the Wild Blueberry Association of North America, please contact Ruth Colapinto or Susan Willemsen at The Siren Group Inc.  Tel: (416) 461-5270.  Email: ruth@thesirengroup.com or susan@thesirengroup.com.
Visit www.thesirengroup.com or on Facebook,  Twitter and Instagram @thesirengroup.