Wild Blueberry Press Release
Host a safe and wildly successful Holiday during the Pandemic
December 4, 2020
With Thanksgiving, Halloween and autumn behind us, the holiday season is officially here… always a special time to celebrate for so many reasons, such as seeing loved ones, exchanging gifts, and, of course, eating good food. Despite this year's challenges, it's still possible to host a wildly successful – and safe – holiday celebration. Here are our top tips (and some delicious wild blueberry recipes) to help.
Be honest: With COVID-19 cases continuing to rise globally and lockdowns in place, rethink the traditional large family gathering around the table. Keep the guest list limited to those in your household or bubble, follow restrictions, and be honest with those not invited. Maintain social distancing and be creative to host virtual gatherings. No matter how small the celebration, plan early and make it a memorable feast.
Rely on tried and true recipes while keeping things interesting… and safe. Think individual servings, settings, utensils, distanced or timed seatings, sanitizing stations and more.
Make a detailed grocery list and shop early: once the menu finalized, plan the list. Avoid the rush, shop safely or online, follow local rules. Frequent neighbourhood stores, shop small and shop local wherever possible. Hint: Canadian wild blueberries are always available in the frozen food section (make sure it says "wild" on the package).
Prep everything ahead of time for a holiday celebration to ensure success. Start early, tackle stuffing, casseroles, gravy, roasted vegetables and desserts. Reheat, assemble of final bake as needed. Plan the day accordingly and enjoy a Zoom call with loved ones.
For both traditional and non-traditional seasonal recipes from the Wild Blueberry Association of North America, visit www.wildblueberryassociation.ca. See our favourites below: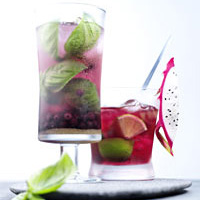 Wild Blueberry Baselito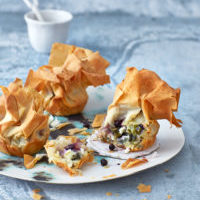 Phyllo Pockets with Spinach, Feta and  Wild Blueberries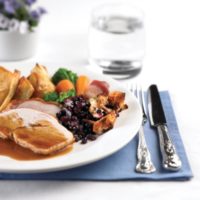 Roast Turkey with Wild Blueberry Stuffing and Apple Compote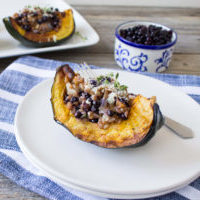 Stuffed Acorn Squash with Farro and Wild Blueberries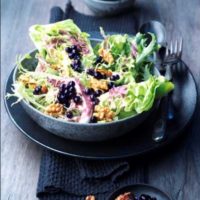 Wild Blueberry Walnut Salad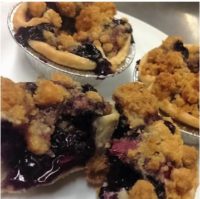 Wild Blueberry and Cherry Sour Cream Crumble Tart
Whichever way one chooses to celebrate the holidays this year, make it wildly special, super safe, and filled to the brim with good food. Happy Holidays from the Wild Blueberry Association of North America.
About the Wild Blueberry Association of North America
The Wild Blueberry Association of North America (WBANA) is an international trade association of growers and processors of wild blueberries from Quebec, New Brunswick, Nova Scotia, Prince Edward Island, Newfoundland and Maine, dedicated to bringing the wild blueberry health story and unique wild advantages to consumers and the trade worldwide. For news, recipes, and related health information about wild blueberries visit www.wildblueberryassociation.ca or www.wildblueberries.com. For a current scientific review of blueberry health benefits visit https://doi.org/10.1093/advances/nmz065.
-30-
For more information, recipes, visuals or to schedule an interview or broadcast segment with Dr. Wilhelmina Kalt, Ph.D. or a chef from the Wild Blueberry Association of North America, please contact Susan Willemsen or Riley Wood at The Siren Group Inc. Tel: (416) 461-1567. Email: susan@thesirengroup.com or riley@thesirengroup.com. Visit www.thesirengroup.com and @thesirengroup.